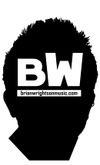 GET LOST...
IN THE MUSIC
IN THE FEELING
IN THE MOVEMENT
New stuff on the Horizon!
Keep your eyes and your ears open!
Excited to have had my good friend Tom Connolly reunite with me on guitar for this one.  It's a modern day re-tooling of the N.A.B.A.S. classic jam song, "She's Gone."  N.A.B.A.S. fans will remember this one.  It was a fun one for us to play live back in the day!  This new EDM styled version was recently released as a download only via iTunes, Amazon, and Google Play.